The scene of the accident near
firestarter
Apr 23, 07:49 PM
Apple users question. Atheists/Agnostics question.

You see a trend yet?

Er?
Yarweh uses Windows
Allah is still on CP/M
The Buddah uses Unix
And Atheists use Macs?
---
Princess+diana+crash+scene
Originally posted by Abercrombieboy
I don't understand you guys, you say that Windows XP is now stable and maybe you are right, and you say that PC's are faster and the hardware is the same quality for less money.

I am getting close to replacing my old iMac and I have always been a Mac person, but maybe you are right PC's are better now.
Nope, not better - faster. Nobody is saying Macs suck - they're saying Macs are slow. I paid $2300 for 550MHz of G4 molasses last year when I could have bought a PC notebook that kicked the pants off it performance-wise. But I don't regret my purchase decision. I would buy the same computer again today (well, maybe the iBook instead).
---
Diana crash scene
williamsonrg
Sep 12, 03:19 PM
I'm really impressed with the price. Obviously they're not gonna talk about all the features this early, but so far it looks good. Will it record TV? I guess "no."
---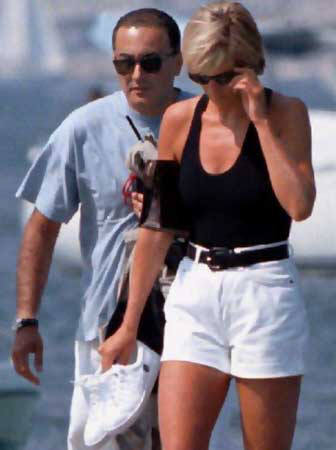 Princess Diana wrote a letter
I'm actually not a Windows developer (hence my nick :) ) but from what I understand you can do most of your fp stuff using the P4's vector engine. I also wanted to add to my first post that in integer ops, the G4 only achives clock parity. It goes without saying that the massively clocked P4's will well outperform a G4 in integer.
---
princess diana crash site.
ghostface147
May 2, 09:24 AM
I am not concerned with malware that requires user intervention and a few clicks to install things. I am more concerned with malware that installs silently without you seeing any pop-ups or stuff like that.

Kind of like those pwn2own contests I think are over-rated. "Pwn" my machine without me having to click anything, visit any website or anything. I'll just boot my machine, leave it at the login screen and let you do your thing. You can't touch it physically, just find a way in.
---
princess diana crash site
I was at work when the quake hit. Building swayed (its a 3 year old building) more than anything I've experienced in my 10+ years in Tokyo. And the duration of the quake is what surprised (and unnerved me) the most as most are short - and the epicenter was 350K away from Tokyo.

Dozens of small aftershocks, of varying degrees but thankfully calmed down a bit now, although a little shake 10-15 minutes ago.

Had to walk home as the trains were all suspended. The 1.5 hour walk was better than a workout at the gym!

To all in Japan, stay safe.

Sent from my iPhone
---
princess diana crash site.
citizenzen
Apr 22, 09:42 PM
Again, how can you prove something that (in theory) exists outside of time and space?

It's a never-ending speculation.

Even if we managed to explore every square inch of time and space you can always ask, "but what if something exists beyond that?"



The question remains, what makes an atheist?

The desire to see some form of proof before believing in an extraordinary explanation.

It's pretty simple really.
---
chi princess diana crash
acslater017
Apr 15, 11:00 AM
It seems like everyone is just ignoring all that for this hip, trendy cause.

What are you talking about? If you're talking about the Apple employees, this issue is obviously something that's very personal, real, and long-lasting for them. It's hardly a "hip" or "trendy" thing. If you're just talking about society (or the MacRumors forum), I don't understand that either. Many people are bullied, sure. But what's wrong with focusing on this particular group? There has been a recent spate in teen suicides due to teasing surrounding their sexual orientation.

Many people are suffering, so we shouldn't bring up the Tsunami in Japan? Wars occur all the time, so we shouldn't try to stop the genocide in Darfur?
---
chi princess diana
aristobrat
Apr 20, 09:00 PM
Windows has an option to hide such files. OS/X does not.
Apparently Lion will support that, somewhat. From reading the dev preview thread comments, the default view in Finder doesn't show the user's Library folder anymore.
---
princess diana crash site.
...so anyway, back to the conference call.

Apple sold nearly 5 million iPads last quarter... now this sounds good to me, why are the media reporting this as "disappointing." Am I missing something here? Surely this should be at least "pretty good."

(EDIT: sorry I'm in the wrong post!)
---
princess diana crash site.
DeathChill
Apr 20, 08:32 PM
Too bad Apple products are few and far between. Want LTE phone? Sorry. Want phone with bigger screen? Sorry. Want computer with USB 3.0 or BluRay? Sorry. I guess you trained yourself not to want anything Steve Jobs does not like. You talk about Apple profits so much, it's likely the more Apple charges you the happier you are.

Want an LTE phone that can make it through the day? Sorry.
---
princess diana crash site. a
Liquorpuki
Mar 13, 09:56 PM
They were talking talking about a 100 square mile solar plant. Take this PopSci link (http://www.popsci.com/environment/article/2009-06/solar-power) for example. A 20 acre site produces 5 Megawatts. One square mile (640 acres) would provide 160 Megawatts. Ten square miles would provide 16000 Megawatts (16 Gigawatts). The link says the country will need 20 Gigawats by 2050. The worst possible accident in this case does not result in thousands of square miles being permanently (as far as this generation is concerned) contaminated.

In contrast Japan Disaster May Set Back Nuclear Power Industry (http://www.usatoday.com/news/world/2011-03-14-quakenuclear14_ST_N.htm). As far as I know, solar farms don't "melt down" at least not in a way that might effect the entire population of a U.S. state. I understand the nuclear reactors are built to hold in the radiation when things go wrong, but what if they don't and what a mess afterwards.

You need to separate capacity from demand. Capacity is just the maximum power a station can theoretically produce. In practice, most of these renewable stations never reach that max. I've checked the stats at my utility's wind farm and that thing is usually around 9% of capacity. Considering a wind farm costs 4 times as much money as a natural gas generator to build for the same capacity, efficiency-wise, the station is a joke.

What's more important is demand - being able to produce enough energy when we need it. This is where solar and wind fall short. They don't generate when we want them to, they only generate when mother nature wants them to. It would be fine if grid energy storage (IE batteries) technology was developed enough to be able to store enough energy to power a service area through an entire winter (in the case of solar). But last I checked, current grid energy storage batteries can only store a charge for 8-12 hours before they start losing charge on their own. They're also the size of buildings, fail after 10 years, and cost a ton of money.

This is why a lot of utilities have gone to nuclear to replace coal and why here in the US, we still rely on coal to provide roughly 50% of our electricity and most of our base load. There are few options.
---
princess diana crash scene
Chupa Chupa
Apr 13, 05:53 AM
Unfortunately, its already the case. When the DTP kicked in Apple was all pro and nothing else. Apple was for media creators and scientists. Now its the opposite.

That is a bit of a retelling of history.

When DTP kicked in in the late 80s, early 90s's, Jobs was already out of Apple and Apple started it's slow, painful downslide. The publishing and scientific markets were the only ones Apple had, not because that was Apple's stated mission, but because it was its lifeline, and mostly because Pagemaker, then Photoshop & Quark, on the Mac was superior to the Windows version. (Quark was Mac only for a couple years)

Apple badly botched the consumer market in the '90s by making 1001 Performa desktops confusing just about everyone, plus Macs were 2x more expensive than PCs with 1/2 of the popular s/w titles. Apple wanted this market, it just didn't know how to capture it and make a profit.

Every long time Apple follower knows that Jobs original mission for Apple, and especially the Mac, was to produce a computer for "the rest of us." Jobs has always been about making computing simpler and more refined. He did not set out to serve the pro community.

Lets dismiss these myths, and brush off the snobbery, contending that Apple was originally built to cater to the pro community and it sold out. That has never been its mission. It makes products that pros like, but it is a consumer electronics company, just like Sony or Panasonic, or Canon or Nikon, etc., etc.
---
Princess Diana Crash Scene
WestonHarvey1
Apr 15, 12:03 PM
Nope; it says that they are required to deny their sexuality; to deny who they really are.

And if the argument goes that they have to deny their sexuality because they aren't married (just as non-married heterosexual people do), well isn't that grand: you've also denied them the right to marry. Why do you do that, pray tell? Because the invisible creator the universe told you that only men and women may marry.

That's a nice little roundabout way of making you feel better for your discrimination, isn't it?

Right, because civil marriage is required for gays to have sex with each other. Nobody is forcing you to do anything. You can have sex with whomever you want to.

We're talking about gay Catholics here, who ostensibly value being Catholic more than they value satisfying their sexual desires in a manner compatible with their sexuality. There is no theocratic regime forcing them to live as Catholics in good standing - it is a personal lifestyle choice, if you will.
---
princess diana crash site.
There's too much hysteria over this. This plant has been hit by a force 9 earthquake and a tsunami and yet although some radiation has been released this is by no means anything like as serious as Chernobyl.

A cold comfort considering it is now already thought to be close to a level 6 incident on the INES scale. :(
---
princess diana crash site.
rasmasyean
Mar 12, 03:34 AM
What the hell? Why doesn't the wind blow it into China instead??? :D

Anyways, that seems kinda extreme. That looks worse than a nuclear missle strike.
---
Princess Diana Crash Scene
ezekielrage_99
Sep 26, 12:34 AM
Until they get the 45nm process up and going, I think this is going to be the top of the line. 4 cores topping out around the mid 2GHz range.

I wonder if this is Intel's long term strategy-- keep the cores relatively untouched, but double the number with each process step. That'll be entertaining for a generation or so, but they're going to have to come up with something else.


Sounds like both Intel and AMD are going by the philosophy more cores more speed.

It looks like the programmers will be in for a fun old time.
---
princess diana crash site.
gnasher729
Apr 21, 05:25 PM
You must live in a alternate univerise if think that Apple users are tech savy. You average user is very happy to have Apple control thier experience, ie they are techtards. And frankly owning an Apple product is the best thing for them, with a PC etc they will just get themselves into trouble.

As a professional software developer, I can assure you that among people of my profession, the majority use a Macintosh for their private use. In some related professions (product design) it's not the majority, it is everyone. And I'm not not talking about artsy-fartsy type, I am talking about designers who I seriously trust to design products that will pay for my salary for the next few years. In other related professions (QA) I have the impression that more of them use Macs, but that is more anecdotal.
---
princess diana crash site.
All I'm doing is trying to argue that sure, there's plenty of stuff in there you're going to disagree with. And that's fine and I'm sure you'd have a lot of compelling arguments to refute the points.

But it's not *hateful*. I don't see how a rational being could find that hateful. That's just something that shuts down discussion and mischaracterizes an opponent.

It is hateful to trivialize a person's identity; to claim that homosexuality is a "trial", that must be overcome. It's dehumanizing, and it's hateful.
---
QCassidy352
Jul 12, 02:52 PM
I can't wait till august so when i get my Conore i can break all your hearts. when u see my Conroe clock up at 3.6ghz and blow that overpriced MacPro trash out of the water. Then please tell me that Core 2 belongs in an iMac. I swear you people deserve to be stuck with IBM/Freescale for another 5yrs.

How is it an insult to conroe to say that a desktop chip should go in a moderately priced desktop? And perhaps more to the point, why exactly are you so worked up about someone insulting conroe... is it your personal creation or something? You do realize that both PCs and Macs will be using both conroes and woodcrests in various configurations, right? It's not like woodcrest is an apple product. So what exactly are you so worked up about?

Do you really think anyone here will care if you overclock your conroe-based PC? Let alone "break our hearts?" Have fun.

Even if you had a point worth making, your attitude is so repulsive that I don't know why anyone would want to listen to you.
---
diamornte
Apr 13, 03:46 AM
Is it any coincidence that the "so-called" Pros in this discussion (who have probably never even used FCP) are complaining about the Interface simply because it looks like iMovie, and so therefore must be "cheap/un-professional"?

You can't assume they've never used FCP. FCP is so readily available in the Post Production World, seems that everyone's got a copy of it at home whether it's the student edition or pirated.
---
ThunderSkunk
Apr 14, 08:33 PM
0. "Get Info"on multiple items. WTF.

1. Crazy mouse acceleration curve. Why there isn't be a simple config option for this under mouse controls I'll never understand.

2. Trackpad acceleration. Why there isn't a simple option for absolute coordinates on the trackpad, so your finger position is mapped 1:1 to your position on screen, I'll also never understand. The trackpads are big enough. A corresponding area of equal size on a wacom digitizer is fine. ...but i need to lug around a wacom just so I don't have to chase my cursor all over the screen? Crazy.

3. Finder. If I delete a file, don't kick me out of the whole folder and make me come back in and go through all the files again to get back to where I was in the file list. It's rude.

4. Finder. Apple has all the pieces, now if they'd just put em together. Cascade thru folders in column view, and when your selection lands on files, display details. Let us see previews in coverflow. Like this:
---
Bill McEnaney
Mar 26, 12:41 PM
I agree with you, brother. God bless you.
Is est a subcribo of contradictio frater
---
tigress666
May 6, 10:19 AM
I've had AT&T/Cingular since 2002/3. I've barely ever had an issue. When I did, it was one month where they did seem to run ******. Then that went away and I've not had an issue again *shrug* (Ok, once at a county fair where probably all the people conglamerated together in an area that usually isn't that populous probably overloaded the towers there. Actually, it turned out it was my iphone had crashed and needed to restart which has happened to me occasionally). I've used my phone in Washington, Georgia, Connecticut, Long Island, and New Jersey.

The only carrier I avoid like the plague is Sprint. And to be fair, maybe they've improved by now (to have still survived I would think so). And it wasn't dropped calls. It was so reliabley bad connection calls I could never understand anyone calling on Sprint. And everyone I knew with Sprint had the same complaints.

MY parents had Sprint and I finally asked them to call me on their landline cause I never could understand the call (and htis was the time Sprint was advertising that you would misunderstand people on other networks. My experience their parody of other networks fit them to a T).

My only thing with Verizon (once again they may have changed by now) is they were significantly more expensive than Cingular or T-Mobile (and Cingular had better coverage than T-Mobile which is why I went with them). Like by 20 dollars a month when I was shopping for plans (this was just regular voice plans). I've been happy enough with Cingular I've never really felt the need to change *shrug*. I probably would not have gotten the iphone if it wasn't on AT&T (cause I was just browsing phones AT&T had). And now I love the iphone so much AT&T would have to suddenly get really bad or another carrier would have to get really good (or a really enticing phone) to make me want to leave.
---